Mother Earth is showing some fantastic colours as autumn arrives! For those of us in the Northern Hemisphere the blustery season is in full swing and it's here to stay.  If you haven't already noticed the leaves changing colour all around you, we've brought you the very best nature photos to take a look at the true beauty of Mother Earth.
Autumnal images from all across the world have been flying across our screens and we've been particularly impressed by Trey Ratcliff's Autumn Awesomeness in Queenstown – the lighting and colours in this shot are just great:
One of our favourite sites for inspiration Bored Panda was on hand to show us some of the best autumnal shots, here's a few to get you started: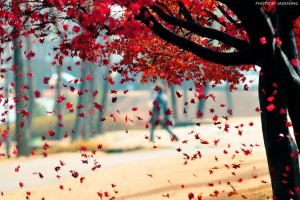 The transition from summer to autumn gives photographers of the world (amateur or elite) the best excuse to capture the earth's beauty. If you're just starting out in photography this is a great time to test your skills especially with stunning colour changes all around.
If you're struggling for inspiration these striking shots should inspire you to grab you camera and run to the outdoors.
Whether you've been up close and personal with wildlife or simply enjoying the beautiful wonders of nature make sure you share your photos with us and enter the CoinaPhoto Mother Earth competition. After all you could be in the chance of getting your hands on a piece of that $1,000 prize pool. What are you waiting for? Simply sign up now to enter and click here for more details on our latest CoinaPhoto Mother Earth themed photography competition.
Photograph sources:
http://www.boredpanda.com/autumn-photography-2014/#post0